Below is a useful table outlining typical installation costs for domestic properties, a guideline only and based on the assumption that the fire sprinkler is a BS9251 system and mains water operated. Why not contact us for a no obligation quote.
Average Fire Sprinkler Costs (new build)

| Property size no. of bedrooms | Fire sprinklers heads | Days to install | Average Cost |
| --- | --- | --- | --- |
| 1-2 | 6-8 | 1-2 | £2000-£2500 |
| 3 | 8-10 | 2-3 | £2600-£2800 |
| 4 | 10-12 | 3-4 | £3200-£3800 |
For BS9251 Fire Sprinkler Systems as a rule of thumb if you have a modern mdpe (blue/black plastic water pipe) coming into your property then the chances are you will have a sufficient supply. Old lead mains supply pipes are unlikely to be adequate.
If you accept a quote from Midland Fire Sprinklers we can upon request provide you with preliminary calculaions for the water supply required to operate the fire sprinkler system. Your local plumber would then be able to evaluate the available supply at your property to check the viability of a mains operated system. Alternatively we could arrange a site visit and do this for you.
For BS9251 systems there are many occasions when we can fit a pump directly onto the mains supply if flow readings are adequate but pressure is not, otherwise a tank would need to be considered. Part of our design process is to minimize as much as possible the demand for flow and pressure as we too would prefer our systems to be mains water operated. please contact us with any queries you may have.
MFS are certified installers for iCO® fire supression mist systems, iCO® mist systems require only 1 bar of incoming mains pressure and discharge typically 80% less water usually required for a standard fire sprinkler system.
Each type of system affords its own unique attributes, in some cases a BS9251 system is ideally suited likewise an iCO® mist system may well suit your properties specifiction. Both systems are UKAS accredited and British Standard compliant.
Key features of a fire sprinkler pump:
Weekly test cycle to confirm correct operation.
Volt free alarm contact to give external warning of pump set start/fault.
Manual test facility.
Example of BS9251:2021 compliant pump set.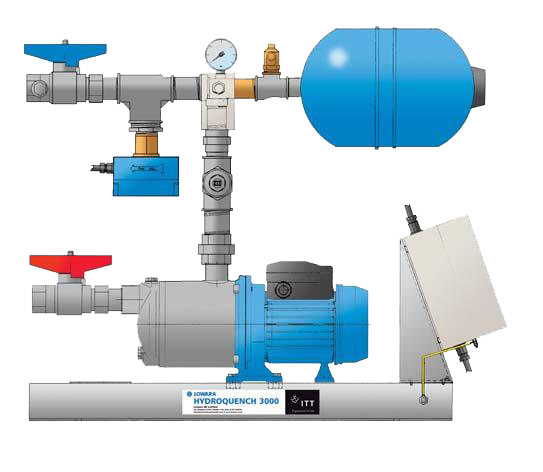 We take great care to ensure that your fire sprinkler system is fully concealed, we assess and discuss with you how we propose to install the system to seek your aproval before commencing any installation work. Although in most cases a concealed system is fully achievable - in rare cases surface mounted systems do need to be considered although it is not very often that we encounter this problem.
Fire sprinklers are designed to operate at a temperature of typically 67℃ for domestic/residential purposes, smoking, cooking etc will not activate a fire sprinkler. The temperature within a room would have to reach an untenable level for a fire sprinkler to activate.
In the event of a fire the sprinkler within the immediate location of the fire would activate, if the fire were to spread then the next sprinkler in the path of the fire would activate. It is a myth that all fire sprinklers discharge at the same time like you see in the movies.